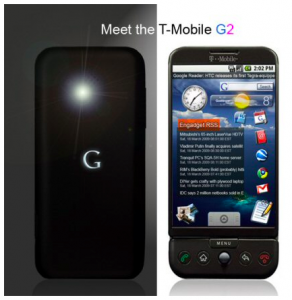 Wednesday, Oct. 6: The T-Mobile G2 Phone made its official debut at the Chicago Sync Center located at 322 S. Green St, Chicago.
The event was organized by Chicago Android with Todor Krecu and Uki Lucas moderating. There was a large, enthusiastic crowd in attendance.
Speakers were set up outside the main room so that people who couldn't fit into the presentation room could watch through the large plate glass windows and hear the presentation on the speakers.

The following is a brief narrative of the events from my notes:

Uki Lucas:
"I am pleased to be here tonight introducing the G2 phone to the Chicago community here at the Chicago Syncubator. I have been to events at different places in Chicago, I have attended great functions at the ITA but I have to say there is more energy and more excitement in the Syncubator than anywhere else I have been in Chicago, and I'd like to thank them for having us."
Mike Rhodes then stepped up to say a few words.

Mike Rhodes:
"Thank you to Uki and Todor for putting on this event and thank you all for being here. The Syncubator has 18,000 square feet of usable space for entrepreneurs and we want to be 'Startup City' here. We love the excitement, passion and energy entrepreneurs bring here and we want to support the creative thought process."
"If you have something to bring to market, we'd love to talk to you. We do investments at the incubator level but have great connections with Hyde Park Angels, Apex and Lightbank and can make those introductions for businesses. Thank you all for being here tonight."
Uki Lucas:
"Thank you Mike. If anyone is a startup company looking for social media , video production, I.P./Legal feel free to contact [email protected]
Now I would like to introduce you all to Todor Krecu. Todor is one of the best social media marketers in Chicago and he is going to introduce us to the G2."
Todor Krecu, champion of the Chicago scene took the microphone and addressed the crowd:

Todor Krecu:
"Thank you, Uki. I was able to get the G2 its first day on the market, and here it is." (He held it up to a few oohs and ahhs) "With the G1 the big problem was the battery. It was the first Android phone to market in 2008 and there have been a whole lot of changes in Android since then. The G2 replaces the G1 and I can tell you as a heavy user myself that the battery lasted all day with no midday recharge needed."
(This got my interest and the crowds interest as well; any smart phone that lasts all day is already a winner in my book- my Droid X makes it about a half day before needing a recharge)
Todor then introduced a T-Mobile team member named Michael who showed how the phone opened and closed and I have to admit it was pretty sweet looking. It doesn't just flip- rather, the screen lifts gently away from the phone and then moves up and backwards over the handset body to reveal its keyboard and it is elegant as Mike described. I was able to try one myself and really liked it. Mike from T-Mobile described it as the smart phone equivalent of driving a Porsche.
Here are some key takeaways for the G2:
– It runs on T-Molbile's HSPA+ network which is said to be 7x faster than 3G and also beats Sprints 4G network.
– It comes with support for Flash built in (FINALLY)
– Downloads at 10MB/second
– Has standard 3.5 mm headphone jack
– Has forward and rear facing camera for iPhone style facetime functionality
– Runs on a dual core processor
– Records video in HD 720P
After the presentation a number of firms introduced themselves such as Cote Collaborative, Forte Consulting, Bruce Montgomery of Tech Access Television, John Pasky of the successful Midventures conference, Moto Media's Andrew Ryann, Opt-it and Chris Sweiss of Juno Wallet.