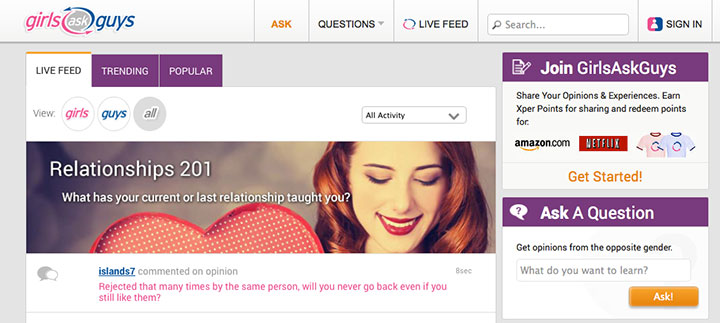 Yeah, yeah, we know, men are from Mars, women are from Venus. But, since disparate planets have disparate cultures and languages, how are emissaries from the two worlds supposed to communicate, let alone date?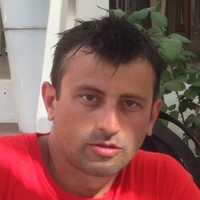 Tolga Tanriseven's answer: Frequent reality checks with planetary compatriots of your would-be paramour.
That is the deceptively simple premise behind GirlsAskGuys.com, the online social community Tanriseven  founded in 2008 as a place where people can pose relationship questions to the opposite sex. Don't let the site's name fool you –  Tanriseven has registered the domain name guysaskgirls.com, and any question posted on that site is automatically redirected to GirlsAskGuys.
"We're not the place where you find a date,'' Tanriseven explains.  "We're the place that helps you get a date on your own, and helps you keep a relationship  healthy."
Using crowdsourcing to answer questions is not exactly a new idea, of course.  Sites like AskJeeves did exactly that in the early days of the internet.  And today, apps like Jelly, launched a few months ago by a Twitter co-founder, also let people answer each other's questions.
Three things set GAG — a perhaps-unfortunate acronym for a site whose raison d'etre is communications – apart, Tanriseven says.  It lets people get input from strangers.  It lets everyone maintain anonymity, if they so desire. And it specializes in gender communication. You can explore topics like fashion or sports, but only in terms of relationships or dating.  A discussion about whether it's okay to root for the Yankees when dating a Mets fan – and what to wear to the game – would pass muster. A discussion about the Yankees' prospects  would be excised.
The site is aimed at people between the ages of 18 and 30.  Membership is free, but people have to join to ask and answer questions.  That enables GAG to gather basic age, gender and location data that it can use to woo advertisers that salivate over that young-skewing demographic. GAG occasionally features the opinions of professional psychologists or other experts ("They're most happy to do it when they are promoting a new book'' Tanriseven notes), but the emphasis remains squarely on peer-to-peer opinions. Members who are the most active, whose opinions are flagged by questioners as most helpful, and those who help monitor the site for inappropriate questions, can earn points toward gift cards, or can be designated moderators or Xpers.  GAG may do away with the gift cards – the cost has been mounting up – but it will continue to add new titles to which power-users can aspire.  "It's a status thing,'' he said simply.
Clearly Tanriseven is onto something.  Based in St. Louis and hoping to be one of the region's next successful startups, GirlsAskGuys already has 12 full time employees and 6 part-time contractors, and it has nearly 10 million unique visitors a month. In 2011, GAG started a similar site in Turkey, Tanriseven's birthplace, and it launched EllasSaben.com in Spain in March.  It's developing fans in the business community, too. Late last year it raised $1 million from investors led by O'Brien Capital.  Bob O'Brien and Jim McKelvey, co-founder of the fast-growing mobile payments company Square, have joined GAG's advisory board.
GAG will use much of the cash infusion to expand to new countries and languages. Portugese, with its huge cadre of speakers in Brazil, is a definite front-runner, but Tanriseven does not rule out German, French and other European tongues. Tanriseven also wants to branch out beyond dating (a health-related "vertical,'' perhaps drawing an older demographic, is high on the to-do-list),  And he recently launched a mobile app.
Not bad for a company that started out as a lark on a semi-drunken day. But first, the backstory.
Thirteen years ago, Tolga Tanriseven was 21, had just earned his degree in computer engineering in Turkey, and wanted to see a bit of the world before settling down to full-time geek work.  His uncle and brother were both at Southern Illinois University Edwardsville, so it made sense to him to come too – particularly since the university gave him a full scholarship and a paid job in its tech office.
Tanriseven earned a computer engineering masters, decided to stick around for a second masters in computer science.  But Monster Commerce, a local ecommerce company, offered him a job, and he couldn't resist.  He left school and went to work full time.
One day Tanriseven and a buddy were having a few beers in a local bar and watching as guys struck out again and again as they tried to pick up girls.  Tanriseven, a bit tipsy, thought about starting a site where he could give pick-up advice.  The next day, sobered up, he realized what he really wanted to do was start a site where people could advise each other.  "I bought the GAG domain name the next day," Tanriseven said.
He ran it pretty much as a side project, a bit of a hobby.  But then Monster got acquired.  So Tanriseven, Jen Heil, the chief technology officer (and by then Tolga's wife) and Trip Goodloe, the chief operating officer, together pursued GAG as a business.
Tanruseven and Heil have since parted, and she left the company.  So now that he is single again, will he ask questions on the site?  He wouldn't say yes – but he certainly didn't rule it out.