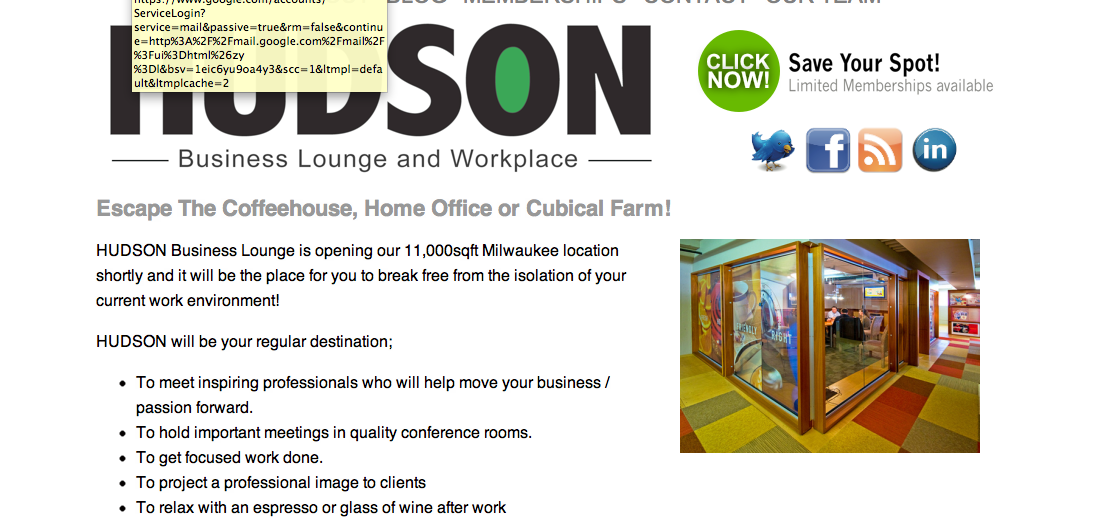 The last generation concept of coworking spaces is not revolutionary in Milwaukee. But, a cutting edge small business incubator with a coffee/wine bar and cabanas? That IS cause for using the word "revolution". The Hudson Business Lounge and espresso bar promises to be the cure for the common collaboration station: The Hudson is the next generation for office nomads and the creative class. The Hudson is a revolution.
Opening this summer, The Hudson will boast 9,000 square feet of cubicle and office co-working space on the first floor located in the Pritzlaff building in Milwaukee's Third Ward. Adjacent to the lounge will be a modern coffee and wine bar catering to both tenants and the general public. The lounge will also contain a "Business Bodega" which will feature a reception area and small creative supply depot allowing tenants to pick up any last minute or forgotten items like flash drives or burnable CDs. Upstairs on the second floor, The Hudson will offer 14,000 square feet of space containing large, rolling pods for business and creative teams to collaborate on special projects. These "cabanas" will be private and can be scaled for larger or smaller teams based on your need.
I sat down with William Wadren, who is heading up this very ambitious project, to talk about his expectations for the Hudson and what his goals for the space were. One of the things William stressed was the lounge's ability to start conversations and the networking opportunities it will provide. Mixing different professions under one roof, William says, gives tenants access to people in professions they may not normally come across working from home, in small offices, traditional tech incubators, or at networking events. William has already had requests from architects, website designers, medical transcribers, the creative class, and lawyers as tenants, and he sees the mix to be mutually beneficial to every type of professional. It also gives professionals the opportunity to graduate from working in a coffee shop to a more professional space where they can have access to a meeting room, a dedicated VoIP line with a mailbox, and a storage locker for files. The adjoining coffeehouse also provides a "working in a coffeehouse" feel, but with a sound-proof wall between your conference call and the espresso machine.
More employees than ever are telecommuting, but working from home can be boring and isolating. The Hudson offers Small Office/Home Office (SOHO) workers access to other professionals, nightly speakers on business topics, and a check-in system to let other members know you are there. This check-in system also allows you to let other Hudson members know you have meeting time open for networking or consulting. The Hudson combines the freedoms of working from home with the human interaction of working in an office, giving you the best of both worlds. With plans starting at $55 per month with no contract, it's also extremely affordable. Look for The Hudson Business Lounge and Espresso Bar coming to Milwaukee this summer!