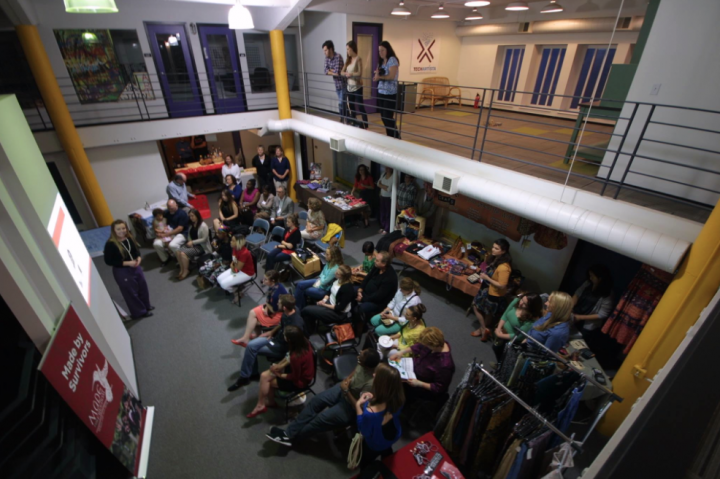 TechArtista is not your typical office building.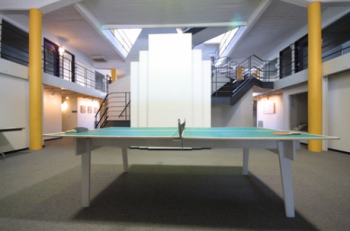 Located in the Central West End, the building houses about 40 different small companies at any given time. The members generally have their own office, but share conference rooms, open floor space, a kitchen, a ping-pong table and even an outdoor patio.
They also pool together their brainpower. Does your technology startup need marketing? The person two doors down may run a solo marketing firm. In fact, TechArtista has an in-house designer, videographer and even an attorney that works with all the resident companies.
TechArtista is one of a growing handful of coworking spaces located in the St. Louis area, an area that has built a reputation as a startup hub. With the rapid advancement of cloud computing and a changing workforce that values the ability to work remotely, the coworking space has taken off not just here but across the U.S. According to research conducted by the Commercial Real Estate Development Association, there was just one coworking space in the U.S. in 2005. By 2013, there were 781.
Coworking spaces are a part of the larger trend toward what is known as the "collaborative economy" or "sharing economy." Car sharing companies such as ZipCar and informal taxi companies such as Lyft and Uber are beginning to disrupt the taxi industry. Companies such as Airbnb allow people to rent out portions of their homes to strangers – an informal hotel service of sorts.
Eric Hamblett, the co-founder of TechArtista, has been fascinated with the movement toward a "collective economy." While a student at Washington University in St. Louis, Hamblett co-founded Bazaarboy, an online ticketing and registration company. Following graduation in May 2013 (yes, he's only 23 years old), he and the other co-founders of the company wanted to work with high-end clientele and live in the cosmopolitan Central West End, yet they found no shared work space. The team decided it would be a worthwhile venture to create an anchor for the startup community in the neighborhood, and it has paid off. Securing outside financing, TechArtista opened shop this May off of Washington Blvd. in the Central West End.
Since its inception, about 40 different companies have set up shop in TechArtista, with an eclectic range of projects taking place. However, not every startup that comes looking for space is necessarily a good fit. Most of the companies in the space have less than five employees in all. The prospective companies also need to be able to cooperate with the other members.
"Sometimes we have people coming in and the first thing they ask is 'How much space per square foot can we get?" Hamblett said. "From that, we can usually sense that the company doesn't quite fit our mission. Our true value is found in the collaboration and community we're building."
The Origins of Coworking in St. Louis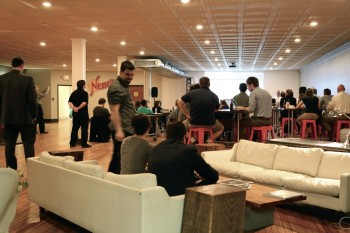 The St. Louis area was introduced to the concept of coworking spaces in July 2010 when Jason Deem decided to open Nebula in the Cherokee Business District in South St. Louis.
"I was working for another company at the time, and St. Louis didn't have any coworking spaces," Deem said. "So I kind of built the space around what I was looking for. And I quickly realized that it was something other people were looking for too. It grew word-of-mouth from there."
The place grew very quickly – Deem said he had trouble finding enough office space for all of those that were interested. Located in a former state probation office, the coworking space is currently 15,000 square feet, with plans to open an additional wing in the near future. Members have access to the space's kitchen, conference room and many open spaces, where Nebula also hosts seminars and events that are usually open to the entire community.
Today, Nebula currently has over 150 different members, with members using the space at various frequency. Some of them are small, fledgling startups. Others are solo entrepreneurs and freelancers looking to work other places besides their house and the local coffee shop. And a few of them work for big companies located elsewhere, and use Nebula as a base. Did you know that Facebook had an office in St. Louis? They do, and it's based in Nebula.
"The people that gravitate to this particular workspace come from all different industries," said Cara Spencer, the director of business development at Nebula. "But they tend to have a creative and innovative streak to them."
For instance, she referenced a plumbing company based out of the coworking space that provides all of their plumbers with iPads.
Many of the members are also passionate about the growth of the Cherokee Business District – Deem, for example, is the president of the Cherokee Station Business Association, a group of more than 50 independently owned business associations in a nearby seven-block radius.
Nebula has different packages available for different needs. For $50 a month, Nebula gives people a virtual office that collects mail and packages. For $100 a month, people can work wherever there is an open space and can take advantage of the shared resources. For $175 a month, people can have a reserved workspace with lockable storage and mail/package service. Finally, a private office is available for those who want their own space, with prices varying.
Like TechArtista, Nebula is technically for-profit. However, Deem said the purpose of the space isn't to make a return on the initial investment but rather "to help build up a vibrant work community in the Cherokee Business District."
The Rolls Royce of Coworking Spaces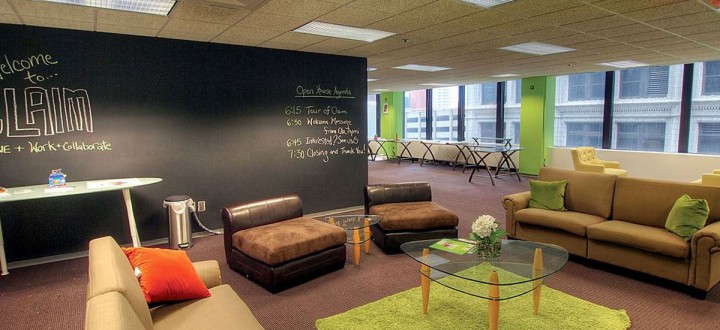 The TechArtista/Nebula style of super casual coworking spaces doesn't float everyone's boat. Some startups may be looking for a fancier feel.
Enter Claim, a small co-working space located downtown. Located on the sixth floor at the Millenium Center downtown, the coworking space has many of the same amenities that others provide – an open office space, a shared kitchen and, very soon, a ping-pong table.
But Claim also provides the feeling of walking into the offices of a Fortune 500 company. A front-desk receptionist is waiting at your service in the posh waiting room. Very generous office space is available with a magnificent view of downtown St. Louis. The space has a specifically designated phone room to take private calls. Instead of the jeans and T-shirts that have become commonplace in most coworking spaces, khakis and button downs are more the norm at Claim.
Claim was founded by Ola Ayeni, the founder of Eateria, a digital marketing loyalty tool for restaurants.  Ayeni, originally from Chicago, moved to St. Louis after winning an Arch Grant. His company has taken off and is now bringing in about $300,000 in revenue annually and growing rapidly.
He later founded Claim as a desire to help other startups reach the same success that his startup has had the fortune of reaching.
"There are a lot of great things going on in the community with startups," Ayeni said. "I wanted to do something that would help continue to foster that growth well into the future."
Claim was founded in March of this year. Not just any startup works out of Claim's coworking space. The space is generally for people who "have their shit together," Ayeni said. "The companies working at Claim have more than an idea – they have a very clear path forward with a business model."
There are currently just four companies as members of Claim, but the steeper prices give off an aurora of exclusivity. The cost of membership at Claim is $215 a month. To get permanent space with all amenities such as a desk, drawer and access to startup events, companies will need to pay $350 a month.
The building where Claim is located is both commercial and residential. Ayeni said the goal is to eventually have members working on the sixth floor and living in the apartmentsabove it.
"We're definitely not quite there yet, but slowly and surely," Ayeni said.