The Small Business Expo shows are business-to-business (B2B) events that include a trade show, networking opportunities, and over 25 seminars, workshops, and presentations at the free registration level.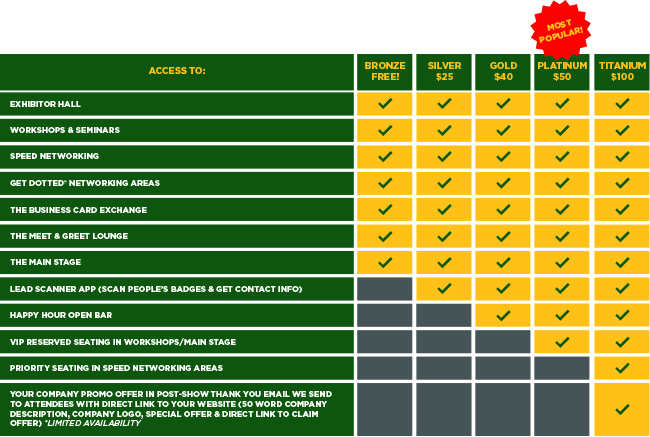 The Expo's free events include a business card exchange, but to utilize some of the other networking resources like the Lead Scanner App or the official Happy Hour, a badge fee is required to upgrade to these more premium options.
The Lead Scanner App is available on Android and iOS, and it uses a QR code located on each attendee's badge to give contact information in a CSV file, a place for making notes, and the option for marking leads as cold, warm, or hot. All of the information gathered from the Lead Scanner App can be exported to an Excel spreadsheet for upload to a CRM, email marketing software, contact database, and so forth. The badge purchase prompts an email to be sent with a license code for the app for the event, which grants access to scanning information from an unlimited number of other attendees.
The free trade show includes approximately 200 exhibitors, and they have even had a casting call for the Shark Tank television series at the events in Miami, NYC, and Dallas in the last few years. Over the past 10 years, the expo has grown to include 15 locations for 2018, and it bills itself as a resource for startups, seasoned entrepreneurs, and those who are still in the idea stage of starting a business.
A recommendation of a free app that proves itself useful at events with presentations is Evernote, as it has a free option and available for use on all mobile devices. Once a free account is created, access is open across all devices, which is helpful when a tablet's battery is dying but a smartphone still has charge. Evernote keeps notes organized by notebooks created by the user.
If going with a group or wanting to share information with people who could not attend the event, then using a document sharing app like Google Docs or shared folders in free cloud storage from Dropbox is helpful for seeing the notes on all the workshops that could not be attended personally.
Events use predesignated hashtags for Twitter use, and these can be helpful for making notes too, as something that is notable can be retweeted during the event and then read over in detail afterward.