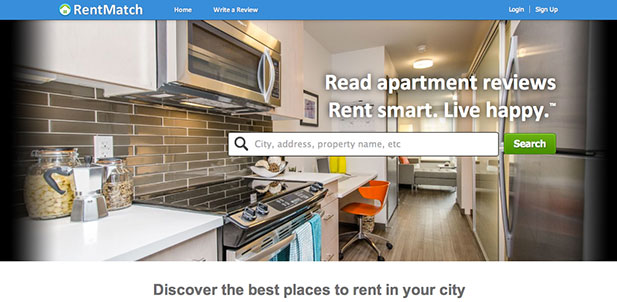 "Finding a place to rent sucks," said co-founder of RentMatch Phillip Lee.  And for anyone who has moved recently, especially to an unfamiliar city, he's not wrong.  With a fragmented market and hundreds of rental sites out there, it's challenging to find the right rental property.  And that's not to mention all of the hours you'll spend researching.  We've all been there at one point or another, whether in college or transferring jobs.  But, how do you know if a place is even worth renting?
That's the question that RentMatch is looking to help you answer.  They're a community marketplace for people to review, search and list rental properties, and they're launching today in 12 cities across the U.S.  Just like TripAdvisor helps you choose the right vacation spot, RentMatch will help you find the right place to live.
The idea for RentMatch first started in college when Lee and his co-founder, then students at the University of Washington, entered a business plan competition in 2006.  Of course back then, they were strictly thinking about an Internet listing site for college rentals.  They quickly built a lifestyle business to support two founders, covering three states and ten Universities in the Pacific Northwest.  Lee even quit his full-time job to do it.
"A year and a half in, they launched TechStars Seattle, and we were very fortunate and got in," said Lee.  "But no one liked our idea.  At the time, the hottest thing was Groupon and LivingSocial.  And so, VC suggested why not daily deals for apartments, list couple units a week, and offer extra kickback or benefit.  See if that model works.  We went though TechStars with that idea.  It was a very interesting business.  Did some placements and were pretty successful."
Then, six months later, the rental market completely shifted.  Occupancy rates skyrocketed, and property owners said they couldn't offer any more deals.  They were looking to raise rental rates for all of their renters due to the demand.  "That was basically our whole business model, and we were out of luck," said Lee.  "So then came the time, do we want to pivot again or not?  We'd always been passionate about solving the problem of finding a place to rent.  It sucks, but no one has solved it."  While giving up may have seemed their only option, that's when RentMatch really found its stride.
"In looking at it, no one is doing anything well," Lee said of the rental listing sites.  "We took everything we learned, looking at our core business and what we were passionate about in solving a problem for the renter, and the problem is really not can I find a place to rent, because you can find a place to rent.  If anything, there's too much data out there, and it just takes time.  What we found is what happens after you move [to be key]." Lee pointed to an example of this dilemma, sharing his girlfriend's experience moving across the country.  She's a traveling nurse and moved from Washington, D.C. to Seattle.  She wasn't able to actually view the property, instead relying on photos and video of the location.  "Everything looked great, viewed property through a camera, and three months later when she moved in all these things came up," Lee shared.  "So one thing we had no idea, the place is really nice and one side has all glass windows, but only one window means no circulation.  This past summer, the place was like a hot yoga studio. You'd just be sweating standing there.  You wouldn't know that looking at the basic listing sites."  That wasn't the only surprise Lee's girlfriend encountered either, with a neighbor who had an affinity for blasting techno music all hours of the night and construction across the street starting every morning at 7a.m.While this certainly showcases why Lee is passionate about helping renters, it doesn't tell you whether this idea will work.  But, he does have a strong group of investors behind him, including Adrian Aoun (Wavii, Google), Bob Lesko (Morgan Stanley), Rick Dalzell (Amazon,AOL), Joel Spiegel (Apple, Amazon), Kim Rachmeler (Amazon), Fritz Lanman (Microsoft, Fivestar, Pinterest), Hank Vigil (Microsoft), Neil Patel (Kissmetrics, CrazyEgg), and Summit Capital.
Even with great support, RentMatch hasn't had an easy road, but they did learn a few things along the way and are looking at what could be a very promising future.  Lee shared this advice for fellow entrepreneurs. "I think we've been at this for awhile now, and we've had our successes and our failures. First thing, fail quickly.  We didn't fail quick enough.  We should have realized market forces and competition faster and should have pivoted faster," said Lee.  "And, take advice with a grain of salt.  They may not know that much about your business or your industry, so very important to have a filter for that information."
Only time will tell whether this idea will gain traction, but they're off to a great start.  Today, RentMatch is available in Chicago, Philadelphia, Austin, Boston, Jacksonville, Los Angeles, Phoenix, Portland, San Diego, San Francisco, Seattle and Washington, D.C., and they're already looking toward the future.  Lee shared that they're continuing to gather high quality data, including pictures of rental properties to make viewing it a simple formality.  They're also working on a mobile app to make finding and researching even easier.
What do you think? Would you use a service like RentMatch to find your next rental property?