By one account, it sounds like cut-and-dried injustice. A hobbyist developer says a well-funded competitor has made repeated efforts to bully him, with a campaign of legal harassment, into relinquishing a successful social network he built from scratch. But as counterclaims muddy the water, the drama is quickly turning into a case of "he said, she said" – and it's becoming less clear whether either side is entirely in the right.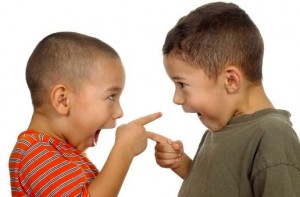 What we know for sure is that about two years ago, Brian Hamachek launched a location-based social app that he called Who's Near Me. The service bore some similarities to a preexisting app called WhosHere, which is now funded by Lightbank.
According to Hamachek, WhosHere sent him a cease and desist letter a year ago requesting that he change the name of his app. He did – from Who's Near Me to WNM Live – but after TechCrunch highlighted his product in March, he said, WhosHere unexpectedly contacted him again with an ultimatum: Pay $15,000 in legal fees and surrender his domain name and social accounts, or sign over a perpetual license to WNM Live.
"I have spent 2 years building this project into something of a success, sacrificing my time, sleep, and social life for this app every waking day," Hamachek wrote. "I fear without help in the next couple days, everything may have been wasted."
But WhosHere fired back, saying Hamachek's account was lacking key information. In particular, they said that Hamachek had approached them in 2010 with an offer to build a Windows Mobile version of their app. After they declined his offer, they say, he created WNM Live.
They also disputed a claim by Hamachek that they withheld legal documents. "We are not patent trolls," they wrote. "We are entrepreneurs and developers."
It's tempting, though, to write the fracas off as a case of a well-funded but inferior product trying to eliminate a better-designed competitor. Hamachek's WNM Live app has a robust 4.5/5 star rating on the iTunes store, while WhosHere has garnered just 2.5/5 stars.
WhosHere's Bryant Harris and Stephen Smith also made public an irate, late night email message from Hamachek written in a more aggressive tone than Hamachek has taken in public statements.
"I was born wealthy; I have an obscene trust fund," reads the email from Hamachek. "I assure you that if required, I will obtain the best legal representation for corporate litigation in the Silicon Valley. "
To further complicate matters, Lightbank has itself been informally accused, by another Chicago startup, of playing fast and loose with intellectual property. Cash Points founder Doug Youmans has publicly claimed that he provided Lightbank analyst Greg Caplan with the "concept and detailed plan" that would later become Cash Points, in hopes of getting funded. Youmans was surprised, he said, to see Lightbank then back Belly, which he said operates under a strikingly similar model.
Neither Youmans, Hamachek or Lightbank could not be reached for comment.
Image: pond5