Wot Went Wrong is an Australian-based startup that allows the socially awkward to find out exactly what its name says, Wot Went Wrong.  The application was developed for the purpose of clarifying the reasons behind relationships with ambiguous endings. Instead of sitting around waiting for that call, Wot Went Wrong acts as a kind of informal intermediary where users can ask the questions they may be too afraid to ask on their own.
The service works in 5 fairly straightforward steps. The first is a page where you enter your details as well as the name of the person you're hoping to get feedback from. After that the service helps you draft a message to your date, even going as far as providing helpful tips for each section. If you're lazy like me, however, there are several pre-made template messages, ranging from confused to sincere. My personal favorite is the philosophical message, which (no joke) opens with a quote from Benjamin Franklin.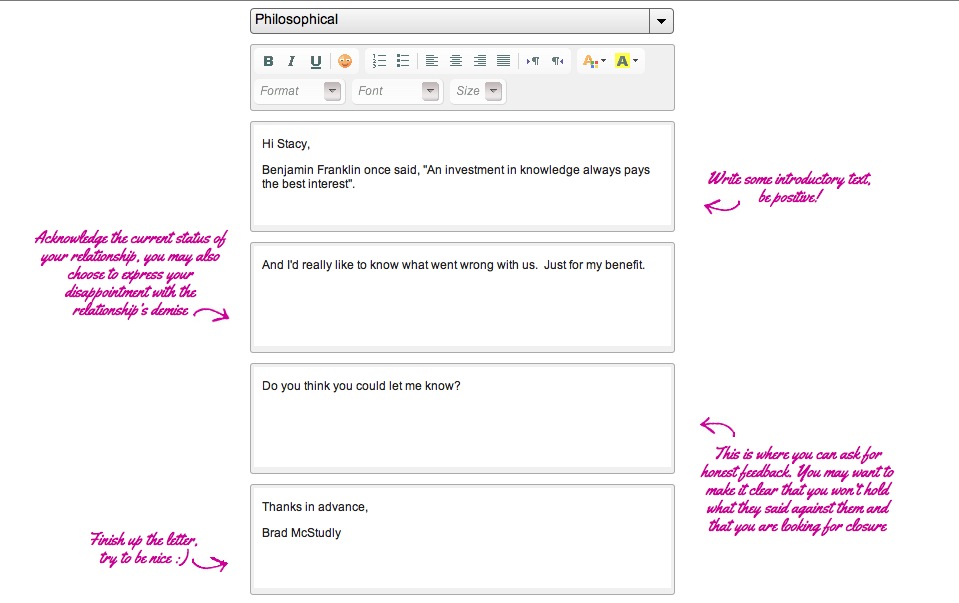 After the message is as pleading or nonchalant as you want, the service has you fill out a quick rating of your date, based on sense of humor, attractiveness, sexual performance, and conversation skills, each on a range of 1 to 5. This quick survey works as an incentive for your date to participate; the message they receive tells them you've answered these questions about them, but won't reveal the answers until they've successfully responded. During this step there's also a section where you can add any other specific questions you want to ask your date.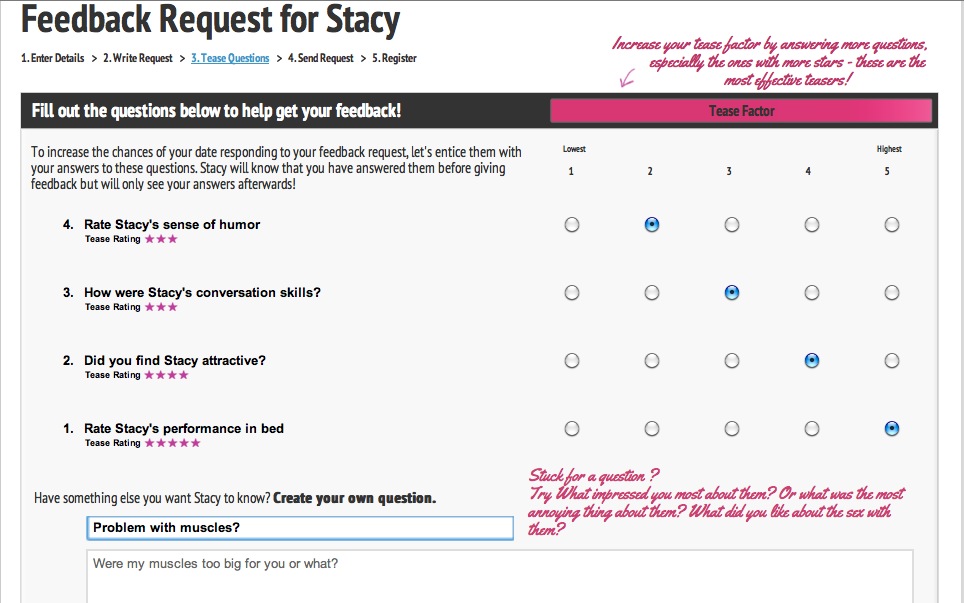 The service then shows you the final draft of the message and allows you to send it to either your date's phone or email address, but not before making you register through their website or by using Facebook (reassuring you that it won't post on your wall). The service is free, but at this point seemed a little more involved than I think a lot of people are willing to do.
What happens on the other end is your date receives an email or text message sending them to the service. Once there they can select feedback from a menu full of subcategories, both general and oddly specific complaints like "you're not fashionable enough" or "you're too hairy." Once they've picked enough reasons for why they dislike you so thoroughly, they're then asked to choose a few positive traits to "soften the blow" before they can see your rating of them, presumably why they even bothered to go through the whole ordeal in the first place.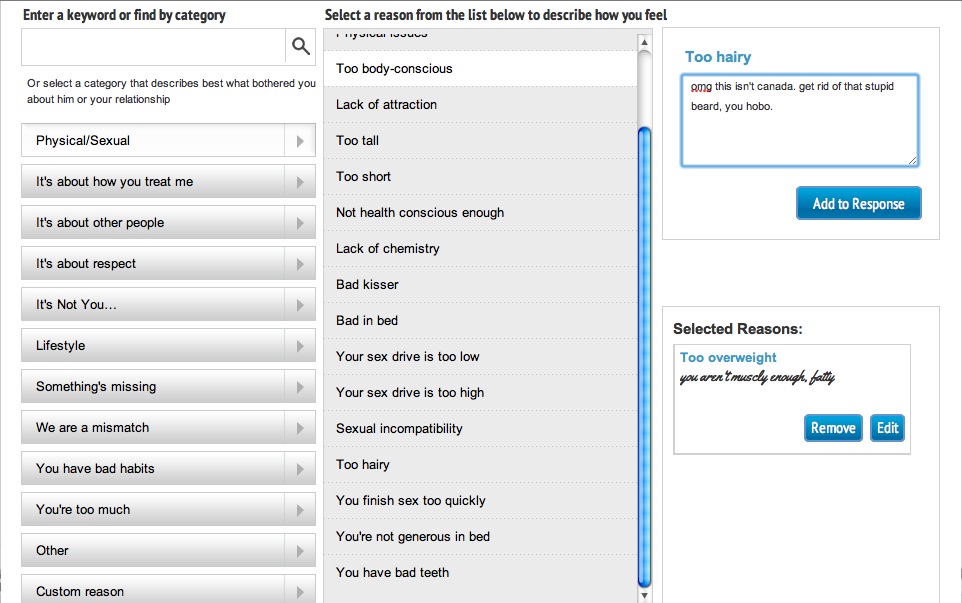 In the end I'm not sure if the service is more or less awkward than just sending a straightforward text asking the same question. I suppose for anyone who doesn't know how to approach this kind of situation, all the prompts, templates, and advice will be a big help. The mere use of the service on both ends, however, might be a good indicator of what really went wrong: mutual social awkwardness.