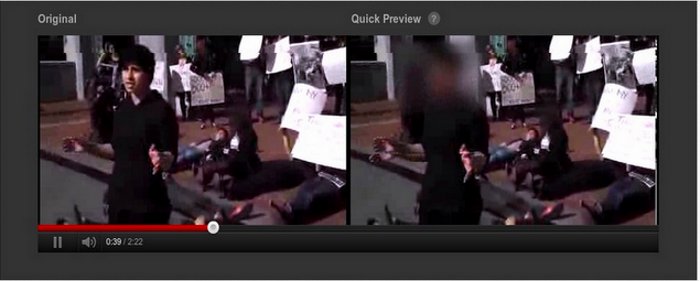 This past week, YouTube likely became the first video sharing site to offer automatic face blurring, with a feature that a representative of the Google-owned service connected to human rights concerns as well as routine privacy precautions.
"Whether you want to share sensitive protest footage without exposing the faces of the activists involved, or share the winning point in your 8-year-old's basketball game without broadcasting the children's faces to the world, our face blurring technology is a first step towards providing visual anonymity for video on YouTube," wrote YouTube policy associate Amanda Conway.
It's not clear that YouTube is the first video sharing site to offer an option for obfuscating the identities of people captured on film, but it's certainly the first high profile one to do so. The company pointed to a report by human rights group WITNESS that found that as of last year, no sharing site or hardware manufacturer had implemented such a feature.
There is a political component to the feature as well. From time to time, Google has pushed back against overzealous censorship and data gathering – most visibly in China, but also in the United States and other nations in the developed world.
In a broader context, there is a sense of political possibility in web technologies, both as opinion-sharing tools and an incendiary, anti-autocratic force that led to the wave of demonstrations and revolutions known as the Arab Spring last year.
"Because human rights footage, in particular, opens up new risks to the people posting videos and to those filmed, it's important to keep in mind other ways to protect yourself and the people in your videos." Conway wrote.
At the same time, Conway conceded that the technology is young, and may not be able to cope with all variations in video style and quality.
"This is emerging technology, which means it sometimes has difficulty detecting faces depending on the angle, lighting, obstructions and video quality," she wrote. "It's possible that certain faces or frames will not be blurred. If you are not satisfied with the accuracy of the blurring as you see it in the preview, you may wish to keep your video private."
Google has enabled similar functionality on Google Street View, its panoramic footage viewer and database, which has itself periodically become the target of privacy concerns.
Image: YouTube