In the current startup ecosystem where everyone wants to be a founder, few have the ability to create products that resonate deeply and swiftly with the masses. One prerequisite to building an app that climbs to the top of the app store is to make something people want. In fact, making something that people want is so important, that the startup accelerator Y Combinator has championed "make something people want" as the program's motto. With new apps flooding the app store each day, it's rare to come across an app that so clearly was begging to be built. One of these rare finds is Artkive, an image sharing app that helps parents easily store and share their children's artwork.
Jedd Gold is the creator of Artikive and founder of the app's parent company, The Kive Company. Gold knew that parents would immediately love Artkive, because he is a parent himself. One day he discovered his wife documenting each piece of art that his daughters, ages 3 and 6, had created and placed on the walls. "It was overtaking our house!" laughs Gold, as he recalls the process of his wife manually taking a photograph of each piece, then categorizing the images. "It was such a huge process," he continues. "Everyone has the best intention to turn things into a book, but in reality it is such a pain. The result is a huge amount of images on a computer that you don't get to enjoy. Parents are busy and there has to be a good way to make this incredibly simple".
The app itself is incredibly easy to use. Once parents download the iOS app, they enter their children's names and ages. Then, parents upload images from their camera roll, or take images from within the Artkive app. Next, parents tag each image with the child's name, grade, date, and title. Parents can then easily share the images with family and friends, or order physical products with printed images of the art.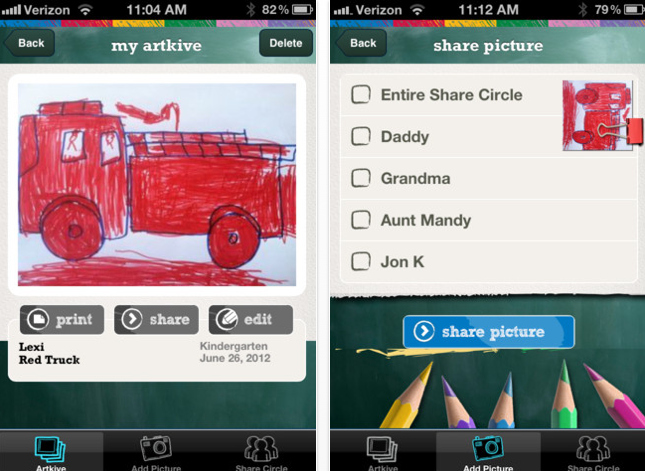 Gold has been overwhelmed by the positive response from parents. One mother took the time to email Gold and share a personal story about how the app is helping her catalog and share the art of her autistic daughter.
While the app is free right now, it may only be so for a limited time. Many parents have approached Gold and told him that the app is worth so much to them, that they would not mind spending as much as $4.99 to download Artkive. To Gold, it proves that his product solves a clear problem and has implied value.
Artkive is just the first in a series of what Gold calls "Kive apps". After all, he did name his company The Kive Company, not Artkive. "The larger goal is to create additional apps that are valuable and solve problems for the same audience. We want to be known for creating best in class productivity apps for parents," notes Gold.
The company is currently seeking investment so that Gold can hire a full-time team and expand Artkive's feature set. I predict that for Gold, it won't be that hard to secure funding from investors who are looking for a clear win. Gold has clearly proved that he knows how to "make something people want".