While smartphones abound, apps are flooding the technology and social media gates. There are apps to pass your time, document your time—in an array of eye-pleasing filters, of course—and save you time. "There's an app for that" is a mantra of truth, and amid the vast sea of applications, it can be daunting to release your own. Nonetheless, attracting the attention of an audience who is anything but app-athetic when it comes to downloading everything new and popular is within your company's realm of possibilities.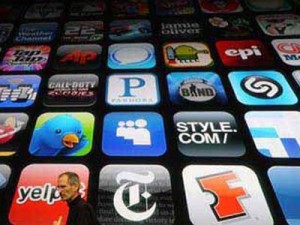 Defining "Critical Mass"
Determining "critical mass" for your app is the first step in making it a success. Critical mass relates to potential audience size, market potential, and existing reach, and as such, your company's personal critical mass should serve as a benchmark for obtaining application users.
Critical mass is relative to your current market position, whether you're a Fortune 500 company or a startup. If you're a startup, your application growth will be solely focused on reaching new users, rather than tapping into a network of existing customers.
Another way to look at your critical mass is as the function of new user acquisitions, engagement, or revenue. A blend of these specific performance indicators can determine your app's success. In this case, success doesn't have to mean a massive number of users. Even if your app has a low number of users, if they exhibit high engagement rates and recurring purchases, it can be an indicator of critical mass with room to grow.
People Pleaser
Before you can reach the masses, though, determine who constitutes "your people." There are two primary questions to ask in order to find them: 1) why did you build your application?, and (2) who is using your application?
Are your answers to these two questions the same? Great news—you've found your people! But it's not always that easy. Sometimes, the answers to these two questions are not aligned, which leads to the next step of the identification process.
If you designed your app with a specific audience in mind, but an entirely different group is actually using it, figure out why it's not being adopted by the audience for whom you intended it. Search for the common thread between the intended audience and those using the app. Determine what those who are using it like; think about ways to continue targeting similar people, or reposition your app to diversify your audience.
The Art Of Being Social
Once you've determined the audience you want to engage and have recognized the audience you may already be engaging, you can focus on branching out to obtain even more users. Social media and viral referrals are great ways to engage new users with your application. But avoid simply placing a "share" button on your app and deeming it social; instead, use a referral program to incentivize people to share your app with people they know.
In addition to incentivizing, giving your audience a bit of ownership over the app can prompt them to then suggest it to their friends and help broaden your user base. Launch your app with an exclusive, invite-only community, and conduct focus groups of your target audience. Allow them the opportunity to demo the app, and then brainstorm ways to make it more appealing. (Their feedback may provide all the information you need to make adjustments!)
This approach will not only make the app better overall, but it will ensure that a particular group of people from your ideal audience is truly happy with it. If they know that your app provides them with exactly what they're looking for—and it should, if they contributed to making it better through the brainstorming process—they'll make it known to their like-minded friends that there's a great new app on the market.
App audiences are always hungry for new and interesting downloads, and though the world of apps is constantly multiplying, by knowing your audience and putting yourself out there by socializing with them, you can find success. In doing so, you can help amplify its attractiveness and make sure it's your app the audience chooses to occupy a few bytes of their ever-dwindling storage space.