These days, dating websites are a dime a dozen. They let you in the door for a monthly fee, and then leave you to do all the dirty work on your own. More often than not, this leads users to spending more time tinkering around with the service and digging through profiles than actually getting out and meeting people. If the second-job frustrations of online dating have left you feeling dejected, you can rest easy knowing that two Chicago entrepreneurs are already doing something about it with a new startup called Project Fixup.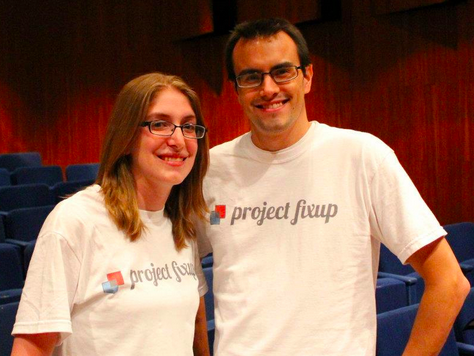 Co-founders Sarah Press and Alan Illing are fed up with the aimlessness of current online dating websites, and have recently launched the new dating service that does the matching footwork work for you. Not only does it connect you with potential dates for an evening of conversation and fun, it arranges a time and appropriate location convenient for both parties.
"We do all the work that you'd otherwise be doing yourself," Press said. "Combing through profiles, coming up with a reason to meet. People are busy and they don't want to be spending time coordinating logistics, they want to spend that time meeting people."
Each "fixup" is based around a theme, such as whiskey lovers, dive bars, or the current meetup for craft beer enthusiasts. Interested members can sign up for any themed fixup that they find interesting, and Project Fixup will begin pairing other interested users based on personality, location, and availability. Once a pairing is made, either user can accept or reject the service's proposal after checking out each other's profile. There's no messaging, no back and forth small talk to pin down a time and location. If both parties accept, the date is on.
Project Fixup co-founders Sarah Press and Alan Illing said they've always been excited about connecting people through technology. Press' first startup, CommuniTeach, is an online service enabling neighbors and peers to learn skills from one another. "Dating is just another really great space where Alan and I and our friends have had really frustrating experiences in the past," said Press.

The co-founders, who met through the University of Chicago's Polsky Center for Entrepreneurship, came up with the idea for Project Fixup together in April of this year, and launched the alpha website in June. Throughout the alpha phase, Press said the service had 150 people attend fixups around the city.
Unlike most dating websites, Project Fixup works on a date-by-date payment system, costing around $10-$15 per date, depending on how many are purchased at a time. Project Fixup even boasts a money-back guarantee, where if you're unhappy with your date in any way they'll refund the payment. In a testament to the service's matching capabilities, only one person asked for a refund out of the 150 fixups that occurred during Project Fixup's alpha run over the summer.
Press said other dating websites, which generally have a set monthly fee, don't have an interest in actually helping their users find a good matchup from the start. "Their interests aren't aligned with you; they want you to stay," said Press. "We only make money if you're going on an actual date and having a good time doing so." Project Fixup sends out post-date surveys following each matchup, providing users with the chance to give valuable feedback and even grab the refund offer if the matchup really went off the rails. According to Press, over 80 percent of alpha users said they were likely to try the service again.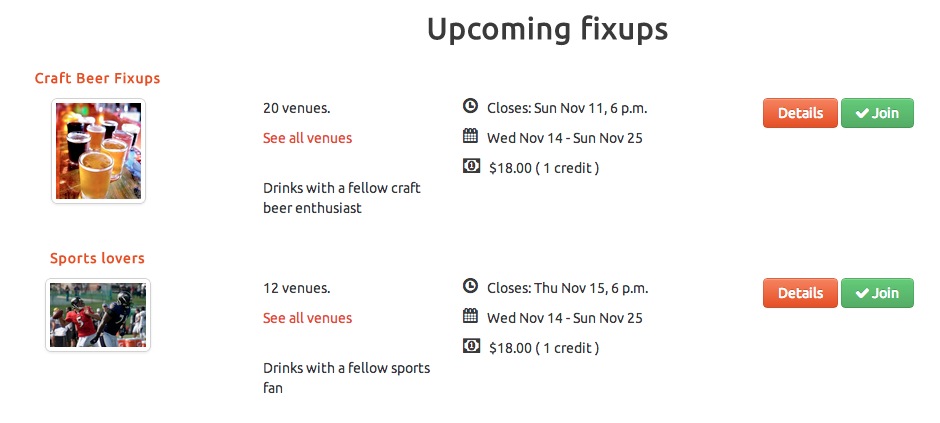 Project Fixup has participated in both Technori and Built in Chicago monthly pitch events. Press, who is a Chicago area native, said that the city's startup community has given a great deal of support to the company.
The startup reached 600 registered users following its relaunch last week. As an already profitable company, Press said they will continue to bootstrap as the team spends the next few months building the product in its home city. "We're excited to grow aggressively in Chicago," said Press.
Into the future Press said the team is looking to expand Project Fixup to other cities, and add more fixup themes, including coffee, volunteer, and museum fixups. The team additionally plans to develop a mobile app down the road, which will allow registered users to find other members in their area and set up dates with the press of a button. "Like a microwave," the co-founder said. "Press a button, find a quality date."
Visit ProjectFixup.com to find out more about the hassle-free, "awesomeness guaranteed" dating website.