The early days of November bring to mind many important events: Election Day, the release of Halo 4, but this year the first week of November will mark another special occasion, at least in the city of Chicago; Mayor Rahm Emanuel has declared the week of October 30th through the seventh of November to be the city's first ever Informatics Week.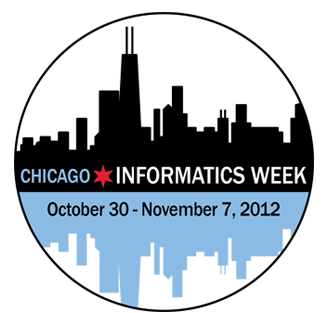 Informatics is a discipline that, like its name suggests, involves utilizing collected information to help solve problems in the fields of computer science, engineering, and healthcare. According to a study by Burning Glass Technologies, the field of healthcare informatics has grown by 36 percent in the past four years.
The city will hold a series of events throughout the week leading up to the annual meeting, including colloquiums, jam sessions, and presentations covering the applications of informatics in healthcare and the organization of big data.
"I urge all Chicagoans to make an effort to participate in the activities highlighting the role of informatics in improving the quality, safety, and cost-effectiveness of healthcare in Chicago and the United States," Emanuel said in the proclamation, which he signed in May of this year.
The week long celebration of the informatics will coincide with the American Medical Informatics Association Annual Symposium held in the city from November 3rd to the 7th. The annual meeting brings together some of the biggest minds in the biomedical and health informatics industry from around the world. As sponsors, Rush University and the University of Illinois – Chicago will host the five day symposium.
Informatics Week co-chair Justin Starren said that the main goal of the first-annual event is to bring attention to the booming informatics scene in the Windy City. "Since moving to Chicago, I have been amazed by both the quality and volume of informatics activity in this city," said Starren, adding that he's been surprised by his colleagues' lack of knowledge about the robust informatics community in Chicago. "Informatics Week is a great way to highlight all the great informatics activity happening in [the city]," Starren concluded.
Visit ChicagoInformaticsWeek.org to find out about all the upcoming events and learn more about the quickly growing informatics industry in Chicago.