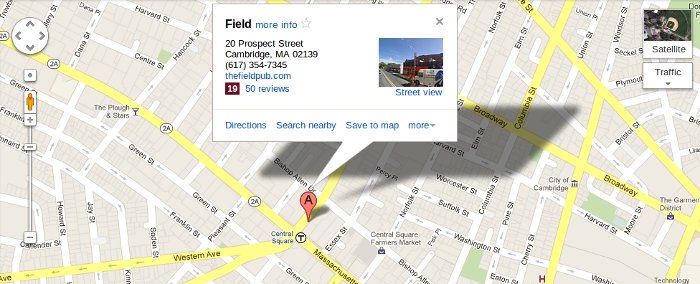 Google announced Wednesday that Google Places will be incorporated into the company's social network Google Plus. That move marks the latest in a string of moves by the search giant to roll popular services under the Google Plus banner – in hopes, perhaps, that it will entice more users to join and actually use the fledgling social initiative.
The Google Places page has been replaced by a redirect to Google Plus Local – or, for accounts that haven't enabled Google Plus yet, a signup form. Google director of product management Avni Shah said on the company blog that the hope is to tap into informal community knowledge.
"Finding the best places to go is an essential part of our lives, as are the people and resources that help us make those decisions," Shah wrote. "In fact, the opinions of friends, family or other trusted sources are often the first we seek when looking for the perfect restaurant for date night or the cafe that makes the best latte ever."
Google Plus Local leverages a cache of content Google has been sitting on for some time. Last year, the company acquired Zagat, a longstanding – older than the web – user rating service, that will be incorporated alongside the social locations component.
At the same time, there is a certain tension between Zagat, a highly organized rating service, and the relative anarchy of social rating systems.
"Since Zagat joined the Google family last fall, our teams have been working together to improve the way you find great local information," Shah wrote. "Zagat has offered high-quality reviews, based on user-written submissions and surveys, of tens of thousands of places for more than three decades. All of Zagat's accurate scores and summaries are now highlighted on local Google+ pages."
Google says the new service will better connect users to physical places using already-existing social webs and feedback. At the same time, Google Plus' flagging performance creates an incentive for Google to push it on any potentially captive audience – such as business owners who want to ensure that their physical locations are being listed on the popular Google Maps service, a task that now must be done with Google Plus Local.
Images: Google, Paramount Pictures