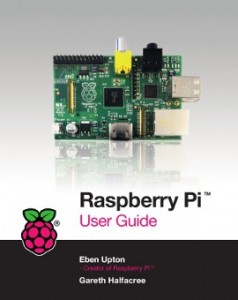 Some Raspberry Pi users might be getting off to a bumpy start with the diminutive, ultra-low price computer – it may be a whole computer, but it doesn't come with a screen, an operating system, or even an input device. So the charitable foundation associated with the project is preparing to release a user guide which, at about $18USD, costs a little more than half what the credit card-sized Raspberry Pi fetches.
The Raspberry Pi User Guide will be written by co-founder Eben Upton and UK-based system admin and journalist Gareth Halfacree. It will be released in tandem with an introductory guide, available only as an e-book called Meet the Raspberry Pi.
"The book is undergoing final review and production now, with a view to getting Meet the Raspberry Pi out in the coming weeks and the Raspberry Pi User Guide whenever the printing presses can churn copies out fast enough," Halfacree wrote.
The 240-page manual, which will be published by Wiley & Sons, will be available in a digital as well as paper edition. The volume will detail hooking the board up to peripherals, installing an operating system, and basic system administration and maintenance in Linux. It will also touch on hobbyist applications like soldering, and customizing the Pi as a home entertainment system.
The Raspberry Pi took the community of gadget enthusiasts by storm this year, when it swiftly sold out of pre-orders and was delayed several times by manufacturing and accreditation issues. It seems that the guide, which is written for users without particular technical expertise, is in some light an effort to pull the project back toward its seminal educational model.
"No real technical knowledge is assumed – although by the time you get to to the sections on the GPIO port, it probably helps – and it aims to allow those without Linux experience to get up and running quickly on the remarkably sub-$35 single-board computer," Halfacree wrote.
Both Halfacree and the Raspberry Pi staff emphasized that the cover art released today, which shows one of the devices balanced on edge on a reflective surface, may not be the final version.
The manual is available for pre-order on Amazon.