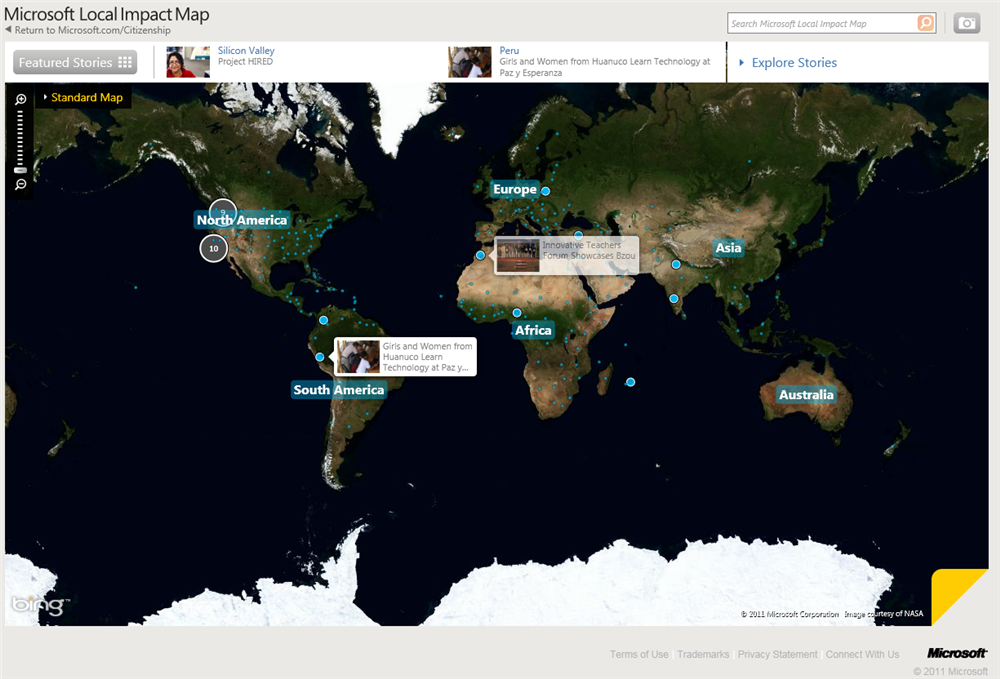 This week Microsoft launched a new tool to help nonprofit organizations communicate their efforts in an innovative visual way. The service, called Microsoft Local Impact Map, allows nonprofit organizations to display their efforts from around the world in a customizable interface that incorporates text, pictures, and videos.
"The Microsoft Local Impact Map is a rich storytelling platform blending the latest mapping technology with the power of self-service cloud computing to create a unique visual experience of community investments around the world," the company said.
Initially the service was developed for internal use by Microsoft's Corporate Citizenship program, but the company is now allowing organizations to rebrand and use the service for free, though it's charging $15 per month to host the interactive maps on Azure, Microsoft's cloud platform.
The service features a cloud-based content management system that allows a group of registered users to add information and post new stories on an organization's map. Microsoft Local Impact Maps even allow companies to create a custom tour that will take visitors through specific highlights of its community efforts around the world.
"We think this is a great addition to the technology we are providing to the global nonprofit community, and it provides a great means of enabling nonprofits to gain support for their work and commitment," said the Microsoft Citizenship team. "Our hope is that the Local Impact Map will allow nonprofits and our colleagues in the social innovation industry to seamlessly communicate stories in a visually compelling way."
Last year alone, Microsoft aided nonprofits around the world by providing over $840 million in free software.
Nonprofit companies using the service include humanitarian relief management service Aidmatrix and TechSoup, an organization that helps other nonprofits get the technology they need. But Microsoft isn't restricting the service to only nonprofit organizations; it's allowing commercial companies like UnitedHealthcare to use Local Impact Maps to detail its corporate social responsibility efforts.
Interested organizations can check out Aidmatrix's Local Impact Map to see what they'll get for $15 each month, or head straight over to the Windows Azure Marketplace to begin applying for one of their own.