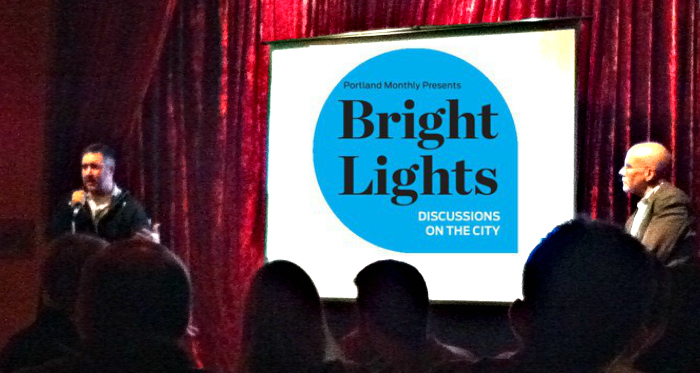 Last night, Rick Turoczy of the Portland Incubator Experiment took that stage at Bright Lights: Discussions on the City to discuss the Portland startup scene. Turoczy has been living in Portland for 20 years. In that time, he has personally witnessed the dotcom bubble and the aftermath, Portland being used by Silicon Valley as a feeder community for tech talent, and the emergence of startups as an economic driver in the eyes of the Portland government.
Turoczy talked about some of these issues and more on stage at the Bright Lights event venue Jimmy Mak's. Bright Lights is a monthly series presented by Portland Monthly magazine with City Club of Portland. The Bright Lights events are designed to bring the region's thought leaders to the stage in an informal, conversational setting.
Turoczy talked for 90 minutes about the lessons learned and the strategies that have worked to bring Portland out of the shadow of Silicon Valley and onto the national stage. Among his many points, five major themes emerged when he discussed the future of the Portland startup scene:
How Portland Compares To Other Startup Scenes
The evening started with a short video that featured venture capitalist Brad Feld discussing his "Boulder Thesis", which is a framework for understanding what makes a thriving startup community, based on his work in Boulder, CO. "Feld can write this retroactively," noted Turoczy. "Our startup scene is far more immature than the Bay Area or Seattle or Boulder" he continued. "We can take these and reincorporate them here," he said, when referencing Feld's four point thesis.
So how does Portland compare to the Boulder Thesis? According to Turoczy, we are doing well in a few areas. First, the Portland culture is entrepreneurial. "Technology startups are a shiny objects that people are focused on. But Portland is entrepreneurial across the board," said Turoczy, pointing out the art, food cart, and handcrafted goods communities.
Feld also says in the Boulder Thesis that startup communities need to be run by entrepreneurs. Turoczy beleives that Portland is doing well on this front, citing the CEO of Urban Airship Scott Kveton as an example of an entrepreneur taking the lead. "His imprint is on so many things that have happened in the community."
Real estate
Much of the startup activity is centralized in the Pearl District thanks to the neighborhood's supply of rehabbed warehouse spaces. "Many startups prefer the bullpen news room. Cube walls are an impediment," notes Turoczy. He added that startups are starting to gravitate towards open warehouses in the east bank of the Willamette River that divides the city, thanks to municipal initiatives.
Funding
Over the past three years, the availability of seed funding has exploded, but there is a gap in funding opportunities for startups seeking Series A funding. "There is too much focus on early, early stage startups," said Turoczy. "There is gap in funding for people who get beyond the coworking, coffeeshop stage." There is money available, he says, for startups who can grind it out until they are ready to seek 3 – 5 million in investment. "There is no money in the 250,000 – 500,000 range," said Turoczy. "We would have killed to have this problem three years ago."
Municipal Government
Portland just elected a new mayor last week, and throughout the campaign, the startup community played a big factor. "The tech community formerly was not on the map for mayoral candidates," said Turoczy. As Oregon's tech community has moved from Hillsboro and Beaverton to the Portland city core, it has become part of the mayoral platform. Portland's new mayor Charlie Hales is stepping into a role that former Mayor Sam Adams built to become an ambassador to the startup community. "This time, startups wanted to participate in the political process," said Turoczy, referencing last week's election.
Turoczy's advice to Hales is "be visible." Adams was known for showing up at tech events and hackathons to show the city's support. "Sam (Adams) has started something that Charlie (Hales) has the opportunity to build upon," said Turoczy.
Bay Area Burnout
The final theme that emerged last night was that Portland is no longer the place where 30 year old go to retire, as the popular television show set in Portland called Portlandia spoofs. Instead, Portland offers a good quality of life to engineers who are experiencing Bay Area burnout. The culture of Portland does not encourage the 16 hour workday grind that is commonplace at Bay Area companies like Google and Facebook. Startups like Simple and Sprintly were founded in Portland thanks to the desire of the founding teams to live a balanced lifestyle.
While Portland has come a long way in the past three years, the city still offers opportunities to grow the startup scene even more. Currently, there are 10,800 Oregonians that work in app development. The state ranks 4th in the nation for "app density", or, the number of people building web apps when compared to the overall population. Thanks to events like Bright Lights that allow Portland startups to have a platform via Rick Turoczy, the startup scene can be assimilated into the popular economic growth strategies that are often discussed in Portland's legendary coffeeshop culture.