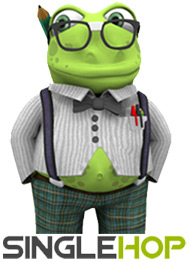 When searching for a dedicated server, there are three things you're traditionally looking for: reliability, support, and a good network. If you're a dedicated server provider, you need a little extra something to stand out from the crowd.
SingleHop provides that extra something…and a whole lot more.
Co-Founder Dan Ushman knew he and his partner Zak Boca had found it when they concocted a unique approach to server management with the right mix of automation, availability, and ease. What started out as a high school and college project for beer money would turn into a $20mm company just a decade later.
"We had a big head start and we kind of set the standard to which all are judged," says Ushman.
And it's no wonder. Take a look at their stats:
8,000 dedicated servers
4,000 clients
100+ countries
#58 on the Inc 500
#3 in IT
#2 in Chicago
3,896% growth since 2007
So what's the magic potion behind SingleHop?
With the capability to automate anything, SingleHop provides total server control anytime, anywhere. Their LEAP Platform allows the company to stay lean, while actually reducing human error. Still, SingleHop provides 24/7/365 support, and the best kind you can get: a single point of contact.
Forget about waiting in endless hold-hell.  You're given the opportunity to build a relationship with your support person, so you can have direct access to 'your guy' when you need him. This not only minimizes the number of people you interact with, it gives a much better customer support experience.
SingleHop has also been able to easily keep up with today's mobile technology. You can access LEAP through any web browser, and is accessible on smartphones and iPads. No more sitting-in-your-office-taking-care-of-business with this company.
Be prepared to hear a lot more about SingleHop in the near future. Though it took a lot of hard work for the company to be where they are today, the innovative approach to IT will keep SingleHop (dare I say it?) leaps and bounds above their competition.
For more about the LEAP Platform and everything Singlehop, visit www.singlehop.com.