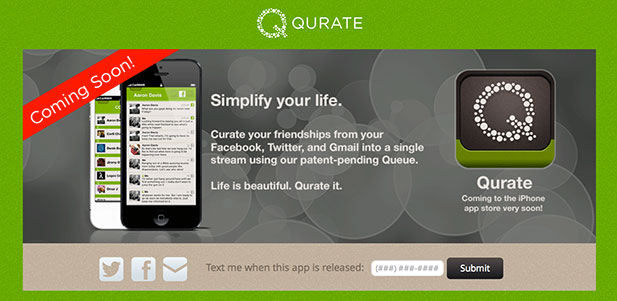 Qurate, an app described as your favorite list on steroids, presented a pitch to listeners of the radio program Dream Big America yesterday.  This morning, they're looking for votes to help move their idea forward.  Their product is really quite simple, combining your Facebook, Twitter, and Gmail feed into one streamlined communication application.
Essentially, you can respond to your friends on the same medium they messaged you from, all from one location, saving you valuable time.  However, they are not operating in a traditional startup fashion.  Instead of charging a standard price for their application, they are offering yearly subscriptions with a choose-what-you-pay-model, meaning you can pay what you think the app is worth.  All subscriptions are the same, and at the end of the year, they'll take half of their annual net profits and give it to Compassions Services International, a humanitarian organization.
Qurate is the first St. Louis-based startup to appear on the Dream Big America program.  Essentially, this program allows three entrepreneurs to pitch their startup business venture to a live audience.  They then have a day to vote on their favorite.  The idea that earns the most votes advances to a finals round at the end of the month, and the monthly winner receives seed money, mentorship, resources and other startup assistance.
On the show, Qurate founder Ryan O'Neil, shared his vision for the company, what they need to succeed, and even his advice for other up and coming startups.  "First, be sure what you're doing isn't just making money. It needs to make a difference in people's lives. Second, GTD. Get things done," said O'Neil. "Don't wait until somebody else comes along or a better opportunity nears. The background of my phone is a quote by General George S. Patton: "A good plan violently executed now is better than a perfect plan next week."
You can listen to the full pitch on the Dream Big America website and cast your vote if you like the idea.  O'Neil has some competition, going up against two other startups, one from Kansas and the other from Iowa.  First, Trellie, a company building technology solutions for women and families that save time, provide peace of mind, and better communication. Second, Tutor Universe, a social marketplace for learning that enables students and tutors to collaborate.
While we won't know the winner of the vote until tomorrow, O'Neil felt that the pitch was strong, sharing that the pitch went great, they loved having a St. Louis startup on the show, and Qurate was honored to represent STL.  O'Neil emailed that the easiest way to vote is likely texting your vote. Text "DBA" to 612.223.7326.  You can also vote via their website by clicking here.