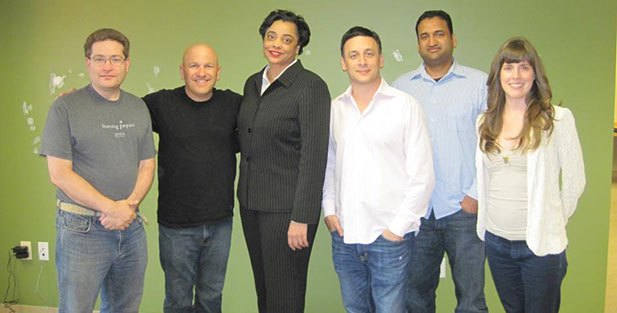 Have you ever arrived back from a conference or work trip to find out that you narrowly missed a friend or colleague?  What if there was a way to ensure that didn't happen again?  That's exactly what Michael Chasen, co-founder of the new startup SocialRadar wants to prevent.  And his company announced yesterday that they've secured $12.75 million in Series A funding to make that happen.
As Chasen explains, there are over 1.1 billion people who have smartphone devices that have the ability to broadcast their locations.  What SocialRadar is working on is taking that information along with data from social networking websites to help you intelligently utilize that information to your advantage by showing you your connections, and most importantly, how you're connected. The idea came to Chasen three years ago after almost missing a friend in Chicago.
"I was checking into a Chicago hotel where I was giving a keynote address at a conference. I got my key and was headed for the elevator when an old friend of mine brushed past me. I quickly reached out and grabbed his shoulder. We were shocked to see each other – and to learn we were both attending the same conference," said Chasen.  "We made dinner plans for that evening and spent time reminiscing and catching up.  This made me think… What if I had arrived at the registration desk five minutes later? What if I had been looking at my phone instead of in front of me? We wouldn't have bumped into each other. We could have attended the conference and left, never knowing the other one was there."
Does that sound familiar?  Take that one step further even.  How many times have you met someone, only to realize later you have several friends or connections in common?  It's an intriguing idea to use technology that combines social and location information to be more aware of the people around you.  And Chasen isn't a stranger to helping people make connections and collaborate.
Before founding SocialRadar, he was the CEO of Blackboard, Inc.  If you've been in college within the last decade, there's a good chance you know this web application quite well.  He helped grow Blackboard to be a global leader in enterprise education technology serving over 20,000 institutions worldwide with over 30 million users.  He took Blackboard public in 2004 and successfully sold it in 2011 for $1.7 billion.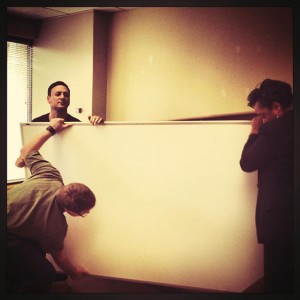 SocialRadar is in a similar vein, but its implications are vastly different.  Where Blackboard is a secure environment, connecting students and professors together, SocialRadar greatly expands those horizons with bigger goals and beliefs.  "We believe that you are connected to the people around you in more ways than you may first realize. SocialRadar opens your eyes to the world around you," said Chasen. "It puts you in-the-know, allowing you to connect with friends and discover new people.  With SocialRadar, you're empowered to see the connections that used to be hidden right in front of you – not only who you know but who you want to know. We believe this type of application is going to change the way people meet and interact."
It's a complex application, too.  It starts by combining location and profile data from major social networks like Facebook, Foursquare, Twitter, LinkedIn, Instagram and Google+ as well as their own proprietary network.  Then, based on individual characteristics and interests, SocialRadar will help you discover people nearby that you are connected to and those who might be of interest to you.  There's also an alert feature that will notify you when someone you are interested in is within a pre-set range, even when you aren't using the app.
Of course, this leads to several questions about privacy with the app.  I like to think of myself as an early adopter when it comes to technology, but broadcasting my location?  Chasen addressed those concerns, stating, "Finally and most importantly, we promise a high degree of security and privacy.  You can easily share your information publicly, broadcast your information anonymously, or be invisible."
Now that's something I might be able to get on board with, especially thinking about the many possibilities available.  Of course, it's easy to see the business potential, but Chasen shared a few other examples with us, too.
Dating: Entering a room and seeing that there is a girl who is single, likes tennis, loves the outdoors, and is a friend of a close friend of yours.  You decide to introduce yourself and see if she wants to go on a date.
Connecting with someone you know and being reminded of what they are up to: Waiting for the subway and being made aware that a Facebook friend is also standing on the platform. You quickly check his Facebook feed and are able to congratulate him on his new MBA.
Finding out where your friends are: Looking for something to do and seeing that there are friends gathered nearby in a bar. You can stop by and visit.
What do you think? Would you utilize an app like SocialRadar?  It varies greatly from other location-based apps in the amount of information it provides.  Chasen explained the differences this way, stating, "SocialRadar is different from other applications on the marketplace because it focuses on letting you know about the people and connections around you – both your friends across the various social networks as well as other people using the power of SocialRadar."
You'll be able to try this app soon enough.  It's currently in beta, and you can sign up for it with a Facebook account.  The team, located in Washington, D.C., is focused on developing applications for iPhone, Android and Google Glass technology and hope to have it available for market soon.