HOUSTON, TEXAS—On May 22nd, over 500 people packed the House of Blues to finally see the 12 graduating teams from the SURGE Accelerator Program.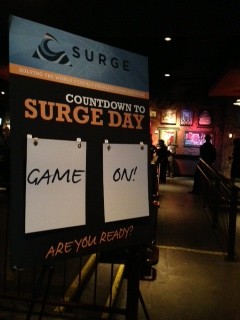 With SURGE being the only early stage seed accelerator in the world for entrepreneurs focused on energy software, the intrigue of investors is easy to understand. But the key component that really puts the accelerator in a league of its own is their business model.
"I'm one of the largest investors, and I don't take a salary," said Kirk Coburn, Founder & Managing Director of SURGE. Instead, they operate on drive. "It really comes down to how much you are putting in… It's about integrity to make the right decision every single time," Coburn said.
And the investors would agree. As Paul Watson from the Hermes Investment Group said, "Surge is in a unique position because it demands efficiency. The people running it are living and breathing in it…there's skin in the game."
With stakes high and rewards great, getting into this accelerator is no easy task.  To find their 2013 class, SURGE sorted through over 500 applications, putting their acceptance rate at less than 3%. The 12 chosen teams received $30,000 in cash, residence and access to a network of over 150 mentors. Needless to say, SURGE looks for world class innovators.
One of the key attributes the accelerator focuses on is leadership. "I believe the #1 reason for success or failure is leadership. Passion and leadership drive you to hustle," said Coburn. "At SURGE, we promote knowing thyself and seeking self-improvement."
SURGE Day's guest speaker Jim Carroll, a futurist, trends and innovation expert, helped define just what being a world class innovator means. "The future belongs to those who are fast," Carroll said. "World class innovators check their speed and adjust to rapid change. They align themselves with big trends."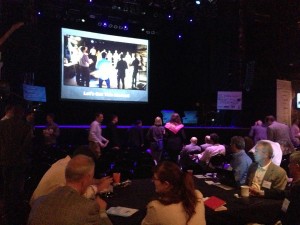 And as the saying goes, 'everything is bigger in Texas,' including the energy sector.  When asked why the Weave team decided to pursue their startup in Texas, Max Webster said, "It's a crossroads for us…we're here because we want to change the world and we want to make a lot of money doing so."
SURGE is optimistic for the future as they set the 2013 class off to do bigger and better things for the world.  And the accelerator's track record to date is promising—21 out of 23 companies are still in business and they've landed 75 major pilots, raised $15.4 million in funding, and created over 100 jobs.
According to Melanie Jones, the marketing guru behind SURGE, the accelerator's presence continues to grow in the community. "We had 20% more people here this year than last year. Now we have so much momentum…The more people that hear about us the more they want to get involved," Jones said.
When asked what the best part of the entire SURGE experience, Webster replied, "The energy…in every sense of the word."
I think he's right.
~
To learn more about the SURGE Teams, visit the SURGE website.