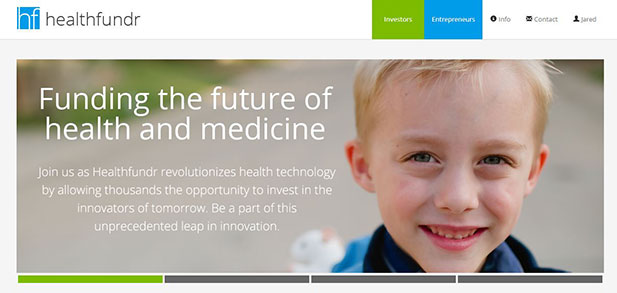 When Marshall McLuhan said that the medium is the message in the 1960s, it's amazing to think about how much that idea still applies in present culture.  What he meant is that new forms of media (technology) transform our experience and is ultimately more important than the content that is shared.  In other words, technology determines experience.
And, we're seeing that in today's society, specifically the experience of interacting with each other. Technology is moving at an almost alarming rate, connecting people and ideas across the world almost seamlessly.  In fact, location has ceased to be a factor in many cases, even when it comes to investing in startups.
No one understands that more than Healthfundr, a new startup out of Boise, Idaho.  But, they're not just looking to make an impact in Boise.  They're setting out to prove that innovation happens everywhere, and you don't have to live in Silicon Valley to get a piece of that innovation.
Jared Iverson, CEO and co-founder of Healthfundr put it this way, stating, "To put it simply, we give people the opportunity, who otherwise probably wouldn't, to invest in early stage health and medical companies and be shareholders in those companies."
Approaching investing differently from the rest, Healthfundr is a platform where any accredited investor can easily get to know and invest in early- to growth-stage health and medtech companies.  And these aren't just any health and medtech companies.  To be listed on Healthfundr, you have to pass a rigorous, in-depth screening.
That screening doesn't have any "hard and fast rules" according to Iverson.  But, they are looking at a certain set of factors.  "Some include if they've already raised and closed a round and if they are showing an interest from new investors in their new round of capital raising," said Iverson.  "If they come to us saying no one is interested, that's not a good sign.  We also look at revenue, whether they have traction among customers, and if they're experiencing growth. And then, unique to health and medtech, we look at how far along they are in the regulatory process."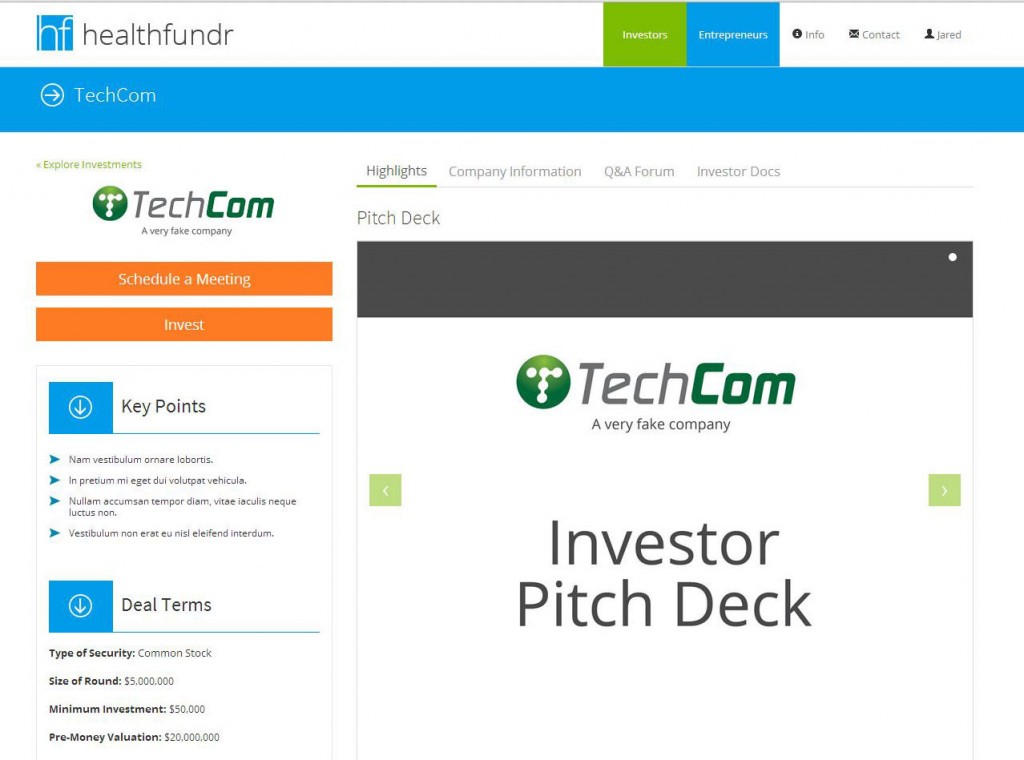 As an investor, it's a more efficient process.  Everything you're looking for is right at your fingertips, including access to webinars and the ability to schedule personal calls with the entrepreneurs to learn more.  On the other side, Healthfundr provides advantages to the entrepreneur as well, especially one that doesn't quite fit the criteria of a venture capital firm.
Essentially, Healthfundr wants to fill the gap left by VC firms, by allowing entrepreneurs direct access to the market.  "Instead of talking to a few people in California, entrepreneurs are gaining access to people across the U.S.," said Iverson.  "We're democratizing it, giving startups who aren't in the hubs of Silicon Valley or Boston for life sciences, giving them a platform where they can get in front of investors who are outside of their geographical location as well."
Of course, Healthfundr is not the cause of this trend of decentralization, but they're capitalizing on it and working hard to move it forward.  "We think we're right on the cusp of major changes to capital formation.  By decentralizing, we're letting innovators no matter where they live the ability to get the same type of access," said Iverson.  "We want to break down those barriers, and investors don't have to be part of the 'good old boys' club to get good deals either.  Over the next few years, we think there will be huge changes with the JOBS Act and capital formation, and we hope to be a significant player in those changes."
Iverson is also a securities attorney, meaning he is well versed in the JOBS Act, which was a catalyst into forming Healthfundr.  "I always loved entrepreneurship and venture financing, and with the JOBS Act, I saw this great opportunity for innovation in capital raising in the health and medical area," said Iverson.
And as far as why such a specific area of interest… "Health and medtech is an area that really improves the quality of life in individuals, and that innovation starts primarily in startups," said Iverson.  "It's exciting to work with innovators.  It takes passion, commitment, and really savvy go-getter type people. I love that Silicon Valley has a lot of capital flowing to great companies, but I'd love to see more capital going to areas that maybe aren't as sexy from a venture capital standpoint."
Now, there's still a strong incentive to being in Silicon Valley, if nothing else because of the amount of money that is there.  However, the JOBS Act does offer some exciting possibilities as Iverson explains.
"There are lots of important aspects of the JOBS Act, but two important things to focus on are the lift of the ban on general solicitation and the crowdfunding portion.  You can't generally solicit an offering.  The SEC says you can't do that. You have to register and do an IPO, so you can sell your stock on an exchange. There is an exemption where people can raise called private placement. You can raise money for a private company that is not registered with the SEC as long as you don't publicly advertise it. The JOBS Act says we're going to change that in private placement, making it ok to speak to the public, so long as you only let accredited investors invest."
Anyone familiar with raising capital can see the possibilities Iverson is speaking to.  However, it's important to remember that even though the JOBS Act was passed last April, the SEC has yet to implement rules and regulations, which is exactly why Healthfundr is not relying on it.  "When that particular portion of the JOBS Act regarding general solicitation changes, that even opens up Healthfundr to more possibilities to reach out to a broader audience," said Iverson.  "The way we're doing it now, we're not reliant on JOBS Act.  What we're doing is compliant and legal with current securities law regulation, which is why only accredited investors can see our current offerings."
Iverson also explained that as far as the crowdfunding portion, which will let non-accredited investors invest in high risk, private companies, there will be additional limitations.  For example, a company could only raise $1 million through that and there are caps as to how much an individual can invest.
"It's amazing, people fly out to Silicon Valley to get capital, and little do they know they have a great investor right down the street. And it's simply because they had no vehicle to learn about that company," said Iverson.  "We hope to add transparency to that and connect the right investors to the entrepreneurs."
Launched just two weeks ago, it will be interesting to see how Healthfundr does in this area.  Currently, they're trying to stay around the 5-10 range with their offerings in three specific health-type companies.  These include digital/health IT, diagnostics, and medical device companies.
Even though there are additional companies who are somewhat similar to Healthfundr, such as TheFundersClub and CircleUp, Iverson's company separates itself by focusing on later stage companies that are looking to raise larger amounts and already have significant traction.
What do you think of Healthfundr? Will it be able to fulfill a gap left by VC firms? Why or why not?