As the old saying goes, a picture is worth a thousand words. Recent San Francisco transplant TidePool is taking this statement to the next level to bring meaning to your photo preferences. The former Amplify.LA company is combining one founder's youthful exuberance with the other's years of scientific brilliance to create their exciting Hunch-like startup.
TidePool CEO Kabir Sagoo describes his company as the convergence of science and art. TidePool ascertains a user's personality and other psychological traits based on the user's photo choices. This photo assessment technology can be used in a myriad of ways. As Sagoo puts it, "Whereever there is a relationship, there is Tidepool." To start, the TidePool team is looking to bring their technology to the work force with WorkType.
WorkType looks to help professional communication by better understanding everyone's personality. Getting started on TidePool is a relatively quick and painless process. Users start by answering four stages of questions. First you're asked to rank photos by placing them in a pyramid of picture frames. Afterwards you're asked to choose your favorite of two photos. The third phase is picking topics you're interested in that float across your screen on tiny clouds.  Finally, you rank a group of interests by adjusting the height of a balloon.  After you finish the four-minute task, you're presented with your WorkType. TidePool has developed 60 different "WorkTypes" based on your answers to help co-workers better understand each other's personality. The goal is to tailor communication based on a co-worker's WorkType.   It's very similar to Klout's "Style" feature, but nothing like current assessment tests.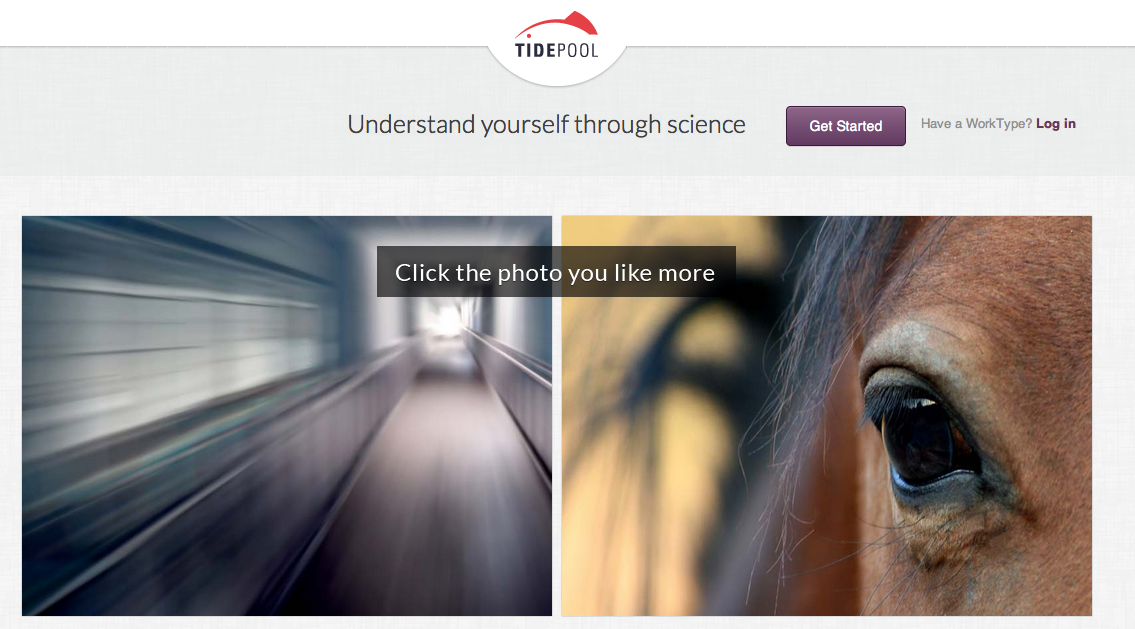 Typical assessments tend to be boring and unappealing to the user. TidePool is looking to make the experience more entertaining. When I asked Sagoo about the user experience around the assessment. I thought there might be some scientific reasoning for picture frames and balloons that might affect my answers. But really it was all in the name of a more entertaining user experience. Sagoo wants to get rid of the boring, multiple choice assessments out there today.  He stressed a fun user experience. TidePool's fun user experience is also a reflection of the TidePool team, despite a sizable age gap between its founders.
 Sagoo and his co-founder, Galen Buckwalter, seem like the odd couple in tech. Buckwalter had graduated college before Sagoo was born.  Buckwalter is the former Chief Scientist at eHarmony. He brings a wealth of experience correlating traits into actionable solutions to TidePool. Sagoo on the other hand is the young gun, bringing lots of energy to the table. Together they have formed a formidable team that is making waves in a short period of time.
Sagoo playfully described his co-founder as "Ancient when compared to most [tech] entrepreneurs" while calling himself  "a youngster even among the milennials that populate startups these days. " When I asked Sagoo how the age difference affects work, he simply stated, "Victory goes to the wise and playful."  A very fitting quote considering this diverse team, which includes three PHDs, is meshing well to create a fantastic piece of technology.
 When I first heard about TidePool, I couldn't help but immediately think of Hunch. As a huge fan of Hunch, I recall answering many seemingly disconnected questions, which was helping Hunch create my taste profile. But just as Chris Dixon pointed out the other day, technology like this needs to be a part of a larger consumer experience.  TidePool is trying to do this with WorkType. But unlike Hunch's movie and restaurant predictions, which has some room for error, WorkType must be accurate. Otherwise, it defeats the entire purpose. I really like this technology and see it being applied in a variety of different fields. It's up to this talented odd couple to find the perfect application and build a business around it.