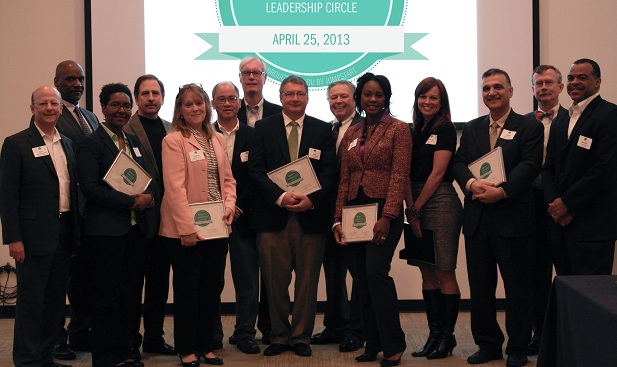 One of Northeast Ohio's many unique programs is the Charter One Launch100 Leadership Circle. Created in 2012, the Circle recognizes minority entrepreneurs committed to turning their business ideas into companies that can have an impact in the region.
In a ceremony last week, representatives from Charter One and JumpStart inducted nine new companies into this dynamic group. The diversity of these businesses reflects the region's commitment to fostering an inclusive entrepreneurial ecosystem.
Notable honorees include SafeCare, whose software provides continuous background checks for long-term care and nursing home workers; medical device company OrthoData, whose novel diagnostic system enables surgeons to assess the success of spinal fusion procedures without exploratory surgery; and Design Flux Technologies, which has developed a combined hardware and software turnkey solution to store and deliver electricity on demand. (Amplified Wind Solutions, a company recently featured on Techli, also received the honor.)
Another entrepreneur who received the Launch100 honor is Renter's BOOM founder and CEO Lindsay Sims. Her company's innovative online solution connects property managers with potential tenants via what she calls socially integrated leasing—basically, leveraging social media to help track and retain customers. To Sims, the Leadership Circle designation is quite important.
"It's really easy to forget how diverse your community is, especially if you're in a city where the majority of the people are not minorities," she said before the event. "Many minority businesses are in locations where you don't always see them, and [they] are doing things that aren't always highly publicized . . . This sort of thing really lets us, as a community, see each other—and then lets other people see us as well."
The Launch100 program is just one of many ways Charter One supports economic and community development strategies that promote economic self-sufficiency and catalyze the development of economically-distressed areas. In a separate statement, Ken Marblestone, President, Charter One and RBS Citizens, said: "Diverse, growing companies create job opportunities for their communities. We're proud to celebrate these future leaders as they strengthen minority business networks and serve as inspiration to others in the region."
The full list of 2013 honorees appears below:
Amplified Wind Solutions (Niki Zmij, CEO)
Body Phyx (Anthony Palladino, CEO; Jeanne O'Malley, CTO)
Design Flux Technologies (Courtney Gras, President)
King J Transportation (Shaquita Graham, CEO)
On Demand Interpretation Services (Colleen O'Toole, Founder & President)
OrthoData (Ric Navarro, President & CEO)
Renter's BOOM (Lindsay Sims, Founder & CEO)
SafeCare (Lissette Rivera, Founder)
Wahconah Group (Isaac Crawford, CEO)