Carrying around an accordion file stuffed with coupons may be fun for the savings-obsessed moms on TV's Extreme Coupons, but it's not practical for most people. The problem is that many of us who live in the paperless world are missing out on potentially thousands of dollars of savings annually by not taking advantage of company-issued discounts in the form of coupons.
Enter Philadelphia-based startup SnipSnap, the app that let's your iPhone's camera do the clipping. SnipSnap allows users to take photos of coupons, store them within the app, and redeem them at participating stores. Users who don't have coupons laying around to clip can search through over 660,000 coupons in the app's database, save them to their account (aka "snip" them), and then redeem them with one tap of a button.
SnipSnap CEO Ted Mann got the idea for SnipSnap while he was working as the Digital Development Director at Gannett. He likes to save money where he can just like the rest of us, and he found himself frequently forgetting his coupons at home while he was out shopping. "I wondered if you could take a picture, could the stores accept it," notes Mann. The problem intrigued him, so he decided to test it out.
Mann knew that he was onto something when fellow customers would come up to him in the stores to ask him what he was doing as he redeemed the coupons from his phone. He applied and was accepted to the Dreamit Ventures startup accelerator program last fall. At Dreamit, he built a prototype and enlisted 35 people in a private beta. "The app was buggy and needed a lot of work. We rebuilt it from scratch, and the new version launched at the end of April," recalls Mann.
The second version of SnipSnap has been wildly successful. Since the soft launch of the app 3 weeks ago, 126,000 users have downloaded the app and snipped a combined 660,000 coupons. The company got a boost from being featured on the front page of Apple's app store.
The app is useful beyond its core function of snipping, saving, and redeeming coupons. SnipSnap uses geolocation to send users push notifications if they are near a store that is offering a coupon. Also, users can tap the discover tab to see the activity stream of every coupon currently being snipped. Users can search through the database for brands and stores through the discover tab as well. Additionally, users can make coupons public or private – this makes sense for a single use coupon that has a unique barcode that can only be redeemed once.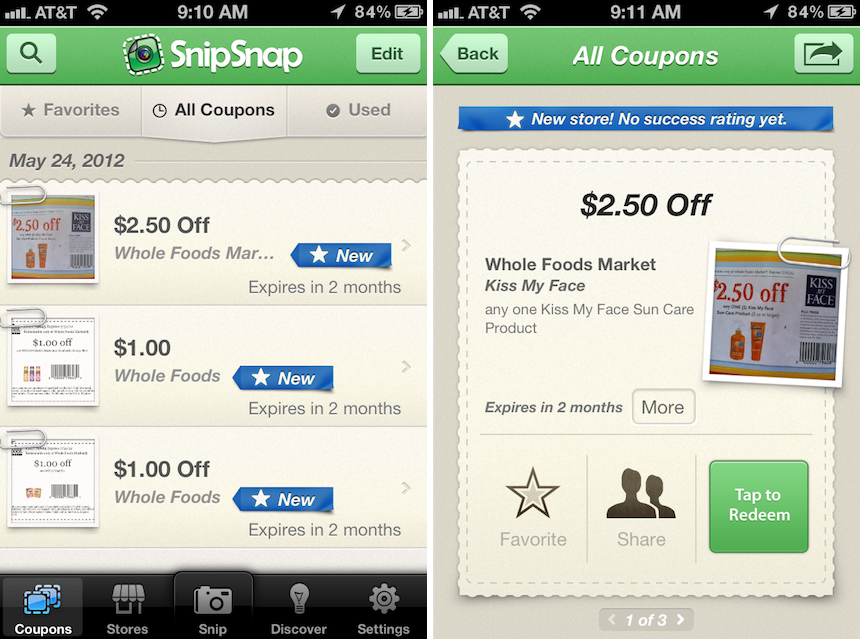 To use the app, simply download it and scroll through the tutorial. The app will present you with an empty screen that prompts you to "snip first coupon." Next, go to the discover tab and search for companies that you like and snip those coupons. Whole Foods, for example, offers a number of $1.00 – $2.00 coupons in the database. Next to each coupon, you'll see a success rating. This displays how successful people have been at redeeming that coupon.
Mann notes that when users scan coupons the app has seen before, it will be parsed fast. If a user scans a brand new coupon, it may take a few moments to parse the data. Don't worry, the app will notify you when the coupon's data has been processed.
SnipSnap is easy to use with a beautiful user interface. Plus, it's useful in the context of daily life. I never pay attention to coupons simply because I find them to be cumbersome and more effort to procure and carry than they are worth. Now that I can access hundreds of thousands of them on my iPhone, I'll be using SnipSnap everyday. This app is a must download.