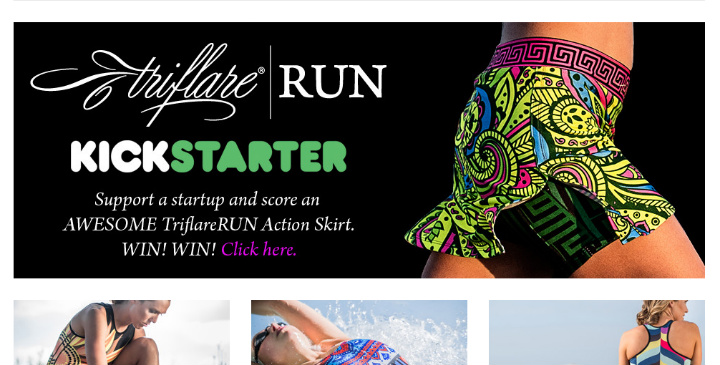 Triflare, the triathlete apparel company launched by Andrea Robertson, has launched a kickstarter campaign whose goal is to launch their TriflareRUN collection for Spring 2015. Their kickstarter video is here:

From the kickstarter page:
"The quest for feminine specific, fashion forward, high performance athletic attire that wasn't a "pink-washed" version of men's wear was launched. This marketplace gap spurred the establishment of Triflare and Robertson has been joined by a world-class team of designers, merchandisers, pro athletes, operations and financial professionals.
Because of the exploding popularity of running, we feel our TriflareRUN collection will be our largest. However, because of the scope of this project, the cost of manufacturing this line and introducing it to the market is a little out of our reach. We need your help. With the  $25,000 kickstarter goal, we will be able to:
– put initial run of current and new designs of skirts, dresses, knickers,  shorts, tanks, and accessories into production
– participate in key expos
– fulfill rewards"
Triflare's CEO was recently featured on 'The Domain Tech report' and you can see her FULL INTERVIEW HERE (or watch the highlights below):